Mobile, AL
USS Alabama (BB60)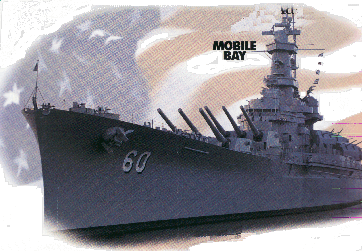 Once in the early 50's I spent six weeks on the USS Wisconsin (BB64) on a Midshipman cruise. This duty helped make the tour of the USS Alabama of special interest to me. If you served on the Alabama please send your memories and pictures of "the way we were."
The following are some dull statistics about her taken from the tourist flyers. She now needs you to fill out her heart with your tales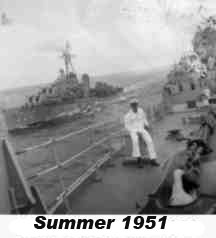 of her glory.
The SOUTH DAKOTA class battleship USS ALABAMA (BB60) was built at the Navy Yard in Norfolk, Virginia and commissioned on 16 August 1942. After training and equipment checks, she assisted the British Home Fleet in protecting convoys on the "Murmansk Run" from England through the North Sea to Russia against German warships and aircraft based in occupied Norway.
She was transferred to the Pacific Fleet in August 1943 where she began hurling 16" projectiles, weighing 1,900 to 2,700 lbs. each, at artillery, bunkers, and troop positions. This was in support of US amphibious assault forces taking the Gilbert, Marshall, Caroline, Marianas, Palau, New Guinea, Okinawa, and Philippine Islands, from the Japanese.
ALABAMA's other major function was to defend our carriers with massive, intense anti-aircraft fire. Her 5" 38, 40mm, and 20mm guns were directly involved in downing 22 Japanese planes. During the Battle of the Philippine Sea, ALABAMA's radar was the first to detect approaching enemy bombers, alerting American fighters and fleet gunners who knocked down 476 enemy planes. Several times ALABAMA's accurate firepower stopped suicidal Japanese "Kamikaze" pilots bent on crashing their aircraft into our warships.
In the summer of 1945, ALABAMA struck targets on Japan itself with devastating effect. When the Japanese surrendered, ALABAMA had earned the American Service Medal, the European-African-Middle Eastern Medal, the Asiatic-Pacific Campaign Medals with 9 Battle Stars, the Philippine Republic Presidential Unit Citation and Philippine Liberation Ribbon, the World War II Victory Medal, and the Navy Occupation Service Medal. She was decommissioned in 1947 and "moth balled" in Bremerton, Washington until 1964 when she was transferred to the State of Alabama. She was towed 5,600 miles to USS ALABAMA Battleship Memorial Park in Mobile. Still the longest nonmilitary ton/mile tow in history. She was opened to the public on 9 January 1965.
USS ALABAMA STATISTICS
Length: 680 ft; Beam: 108 ft 2in; Displacement: 35,000 to 42,500 tons;
Maximum Armor Thickness: 18"; Crew: 127 officers & 2,205 enlisted;
Armament: 9-16" Guns (3 Turrets), 20-5" 38 Guns (10 Mounts), 48-40mm
Guns (12 Quad Mounts) , 2-20mm Machine Guns
Maximum Speed: 28 knots;
Horsepower: 130,000;
Range: 15,000 Nautical. Miles at 15 knots.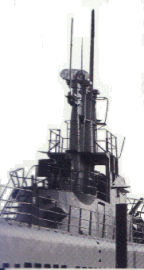 USS DRUM (SS 228) Submarine
About a decade ago while visiting the Drum, I watched an older man leading his bored Boomer generation kids and their family through the ship. They had either heard the stories before or were not interested. I eavesdropped long enough that after they left he continued showing me through the claustrophobic confines of this WWII vintage boat. What an opportunity! To hear directly from a veteran of life aboard her in combat. This story still needs to be told. Send me your pictures and stories of her in her hey days!
The GATO class submarine, USS DRUM (SS 228) was built at the Portsmouth, Virginia Navy Yard. She was commissioned on l November 1941. After training and equipment checks, she arrived at Pearl Harbor, on 1 April 1942, to begin a series of 13 war patrols as summarized below.
DRUM's War Patrols
1. Getting underway 14 April 1942, DRUM sank Japanese seaplane tender MIZUHO & 3 cargo ships.
2. Underway 10 July 1942, DRUM damaged one Japanese merchantship.
3. Underway 23 September 1942, DRUM sank 3 Japanese freighters & damaged 2
other cargo ships.
4. Underway 24 January 1943, DRUM damaged the Japanese aircraft carrier RYUHO
and a tanker.
5. Underway 24 March 1943, DRUM made a photo reconnaissance of the island of
Nauru.
6. Underway 7 June 1943, DRUM sank one Japanese passenger-cargo ship.
7. Underway 16 August 1943, DRUM sank one Japanese merchantship.
8. Underway 2 November 1943, DRUM sank one Japanese merchantship and received
heavy damage from escort ships;
9. Underway 9 April 1944, DRUM made a photo reconnaissance of the island of
Chichi Jima
10.Underway 24 June 1944, DRUM sank one Japanese sampan
11.Underway 9 September 1944, DRUM sank three Japanese cargo ships
12.Underway 7 December 1944, DRUM could not detect any enemy shipping
13.Underway 11 February 1945, DRUM provided pilot rescue & reconnaissance
support for the invasions of Iwo Jima and Okinawa
DRUM sank 15 ships for cumulative displacement of 80,580 tons, ranking eighth among American submarines, earning 12 Battle Stars for her World War II service. She was decommissioned 16 February 1946, but reactivated 18 March 1947 to serve as a training ship for naval reservists around Washington, D.C., where she remained throughout most of the 1960's. She was opened for public display at USS ALABAMA Battleship Memorial Park on 4 July 1969.
USS DRUM STATISTICS
Length: 319 ft; Beam: 27 ft;
Crew: 10 officers & 70 enlisted;
Displacement: 1,526 tons surfaced, 2,415 submerged;
Armament (Varied During World War II, Presently): Ten 2111 Diameter Torpedo Tubes; 1-5" 25 Gun; 1-40mm. Gun; 1 Twin 20mm Mount
Diesel Engines for Surface Use: four 1,600 BHP for 20.25 knots;
Electric Motors for Submerged Use: Four 1,375 HP for 8.75 knots;
Maximum Diving Depth: 400 ft. (a closely guarded secret during her tour)
See Al Lansdowne's correction and comments ... click here

Also on display with the Alabama are:

Navy Chance Vought OS2U Kingfisher reconnaissance aircraft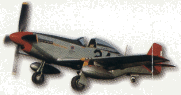 Army North American P-51D Mustang
Army American B25J Mitchell bombers
Air Force Douglas C-47D Sky Train transport (Gooney Birds)
Air Force North American F-86L Saber jets
Army Piasecki CH-21B Workhorse transport helicopter
Marine Corps Chance Vought F4U-7 Corsair
Navy Grumman F9F-5P Panther fighter
There are additional displays of Viet Nam and Gulf War era artifacts.