Mississippi Ordinance Plant
Mississippi Ordnance Plant, Flora, MS
Smokeless Powder Bag Loading Plant, 1999.
The ruins of the old Smokeless Powder Bag Loading facility emerged through the mist like some WWII Stonehenge. It was an eerie scene. The stained 14" reinforced concrete walls becoming clearer and clearer as we approached, pushing through a friendly herd of cattle expecting a handout. A slow drizzle prevailed all morning as Ken Roberson and Charles Bowering, local historians, arranged with the private property owner, Mr. Anderson, to allow us to see the ruins. The walls made even more stark by the fact that all wood or other trim had long since rotted away. Trees, bare from the winter cold, accentuated every corner. These ruins are not accessible to the public but it would be real loss if all of them were lost forever.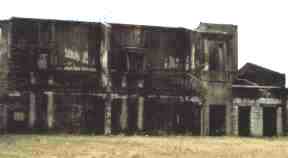 Smokeless Powder Bag Loading Plant, 1999.
The entire plant and support buildings covered 9300 acres that included eighty to ninety dirt covered bunkers for storing the completed munitions. The General Tire and Rubber Company of Akron operated it. Charles Bowering describes the building process: "They took a mountain and made a gully out of it to get the dirt for the bunkers, roads, and buildings." He has actual film of some of the work in progress.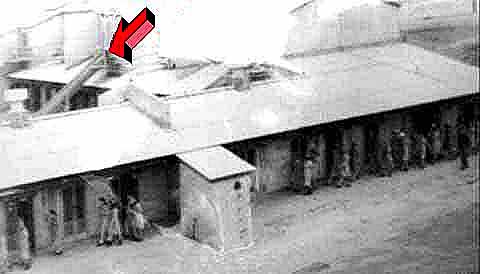 Smokeless Powder Bag Loading Plant, 1943. Notice all employees, walking to work positions were women. Arrow points to slides for rapid escape
They designed the plant to turn out smokeless powder bags for Battleship 16 inch guns to smaller artillery shells. The plant finally turned out only 105mm howitzer bags. The plant was completed in May of 1942. It was one of four identical plants built at a cost of about $15,000,000 per plant. When they planned the four, they didn't plan on more modern methods of production so one plant did the job of all four. The Flora plant finally started operation in May 10, 1945 — after VE day. Diminishing demand allowed for only three of the bag loading buildings and for only one shift per day.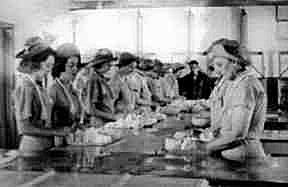 Assembly Line, 1943. Women workers loading powder bags.
Operation ceased on August 15, 1945, after only three months of operation and 959,281 105mm howitzer bags loaded. The powder bunkers are being preserved because the area is now an industrial park and are being used for storage and other uses. These magnificent old bag loading ruins, however, are virtually lost, not as much from decay, but to being forgotten. They are strong and will stand for many years. Hopefully a way will be found to preserve at least one for public viewing.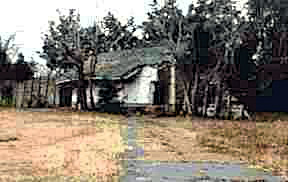 Loading building, 1943. Notice the earthen mounds on either side to divert explosions.
If you would like more information about this area, contact:: Presley Posey, Flora Mississippi Public Library 601-879-8835

Send Corrections, additions, and input to:
WebMaster/Editor