Keeping the Kilroy Was Here memory alive since 1996

9/11 Count up at bottom


Menu below. Your access a wealth of WWII memories

| | |
| --- | --- |
| | The largest paradrop in History (to that date) was a "Hail Mary" in the low Countries. The story from one who was there! |

| | | | |
| --- | --- | --- | --- |
| "From the Cradle to the Grave." USS America and USS West Point. The sad end of a magnificent luxury Liner ship that went to war. | | | |
Editor's picks from the web 09/24/2017
As editor often get outstanding contributions from readers. They represent hard work of others who share my passion to remember! I can't put on KilroyWasHere.org as mine but they deserve wider distribution.
Shared by Bill Kerrell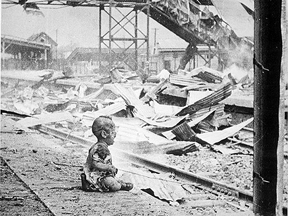 Shanghai South Station — Japanese-Bombing
( Wikimedia Commons)

War Crimes of Imperial Japan: A Lesson In Moral Equivalence.
(Breitbart) - President Obama made a single, vague reference to "evil" during his prepared remarks in Hiroshima: "We may not be able to eliminate man's capacity to do evil, so nations and the alliances that we form must possess the means to defend ourselves. But among those nations like my own that hold nuclear stockpiles, we must have the courage to escape the logic of fear and pursue a world without them."

He spoke at length about the horrors experienced by the populace of Hiroshima:

We stand here in the middle of this city and force ourselves to imagine the moment the bomb fell. We force ourselves to feel the dread of children confused by what they see. We listen to a silent cry. We remember all the innocents killed across the arc of that terrible war and the wars that came before and the wars that would follow.

Mere words cannot give voice to such suffering. But we have a shared responsibility to look directly into the eye of history and ask what we must do differently to curb such suffering again.

"Let all the souls here rest in peace, for we shall not repeat the evil," he said, when reading the inscription on a monument at the Peace Memorial Park.

He somehow forgot to mention the evils perpetrated by Imperial Japan or the unspeakable suffering it inflicted upon POWs and civilians who fell into its clutches.

Let's correct that oversight, to help the President understand why moral equivalence is the dim refuge of lazy minds, and equating American troops with the Axis forces they defeated is an outrage.
Volume 12. Searches, Page 1 -- Page 2 -- Where people post search for friends and relatives. If you are interested in any particular subject there is a site search engine on all the main pages.

Note: All submissions become the property of KilroyWasHere.org.
E-Mail to the Webmaster/Editor

Editor@KilroyWasHere.org